The rules of this award are:-
1. Copy Badge "2008 Cute's Blogger Award" untuk diletakkan di blog anda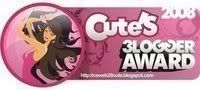 2. Link atau ceritakan kembali siapa yg memberikan award ini kepada anda: GEE

3.Setiap blogger hendaklah menyatakan 10 fakta/hobi diri sendiri sebelum memilih pemenang seterusnya.
Me adalah flower among the torns in my office and DH adalah torn among flowers at home.

Me works as an office manager at a company that owns by DH bersaudara and their korean friends bersaudara..*wink*

My first crafty hobby is cross stitching. I have been doing it since 1995. During that time the only supplier that I am dealing with the stash is Haby and Wool. Segalanya adalah haby dari needles, chart, thread, button, fabric and framing too (but expensive la)
I had joined a MYS or Malaysia stitching group few years back but not active since my commitment towards my part-time degree.

I learn lots of thing about cross stitching from MYS such as types of fabric from linen to evenweave, lambs wool, hand dyed ishh memacam..also the alternatives finishing such as scissors fob, pendibule, needle books, pinkeep..etc..etc

Later I had expand my network by joining a forum where we share our interest and exchange ideas on cross stitch. I then started my blogging world..

I loves to collects charts and books such as dimensions, LHN, CCN, xstitchworld, Moira B, etc..etc..

Now, I usually shop online more as choice is wide and variety. Sometimes when they are having sale, it is a good bargain to piling up your stash..*wink*

Me oso into tatting and Ribbon Embroidery.

At the moment, not plan to sell my work lah..coz I am working and I don't have maid. Both DD are having their important exams this year, so after working hours is time to send and fetch them from their tuition class..6 days a week..aiyoooo...letih maaa....
OK Lah, I thinks its enuf of me to merapu..so I am going to give this award to five cute miut friends: